Did you know that nail polish was initially invented for men? Chinese Emperors and Egyptian Pharaos were the first to cover their nails in rich colours to show their social status. 
Nowadays, we're seeing more and more men are getting mani's, pedi's and generally experimenting with nail polish. Be it male models, football players, rockstars, actors, Youtube stars or make-up guru's- the male manicure is definitely up and coming. About time too!
A brief history
Men have been wearing nail polish since 3,200 B.C. Following an excavation of royal tombs in Babylonia, it was reportedly discovered that most men during that era wore nail polish- with different colours signifying different classes. Made primarily with kohl, the darker the colour, the higher the class of man. Light colours were reserved for lower class men. (it doesn't make your favourite nude polish any less fab!)
As we highlighted in last weeks blog– China also followed suit in 3,000 B.C using nail polish to show status. Both men and women alike were encouraged to spend time on their manicures- using ingredients such as gelatine, Carmine and egg whites (no thanks). 
nail polish became feminine
There is little documentation on how nail polish turned into a specifically feminine expression as the years ticked on. What is known however, is that by 1800's France, it was primarily women who would paint their nails to signify their own cleanliness.
By the 1930's companies like Revlon were marketing red and pink polished directly to female customers, essentially alienating men to the concept.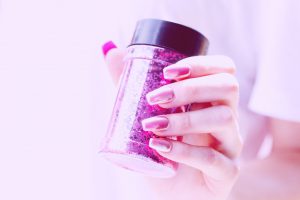 famous polished nails
So what broke this trend? Perhaps it was the rise of the counterculture where artists such as Iggy Pop, Kurt Cobain, Lou Reed and David Bowie showcased their painted nails in the spotlight. All were blasted for not conforming to the gender norms of the time, David Bowie in particular was cast as 'freaky' for wearing metallic polishes on stage. 
men wearing nail polish
Luckily for all of us, times have changed for the better and something that wouldn't have even been considered is now widely socially accepted. Men from all different kinds of backgrounds, professions and cultures are starting to pay special attention to their nails- because let's face it, some have better nail beds than us women and should be celebrated!
With a growing awareness of male grooming, it's no wonder men are dabbling in painted nails and rightly so. Across the pond in the US, Manglaze (no, you won't find this on top of your doughnut) is a line of polishes tailored specifically to men. This proves that caring for your nails isn't just for male celebrities, but any man who takes pride in their appearance.
a note from us
Whether you are a seasoned advocate of the male mani or want to start experimenting with colours, Livoliv have a vast range of polishes from pastels to neons to metallics. We pride ourselves on being 100% vegan, cruelty free and non toxic. Whatever gender you identify as, whether you're vegan or not- we believe that our products should be inclusive to those who care about their skin.
Whilst you're here, why not check out our newest product- our acetone free nail polish. A lot of hard work went into the creation of this remover so we are super proud to have it available! Like all of our polishes, this lemongrass and ginger fragranced remover is vegan, non toxic and cruelty free. 
Until next week…
The Livoliv team x