As the company continues to grow, we thought it would be a great idea to spend some time looking back.
We have poured our hearts and souls into this business and we are so incredibly proud of what we have achieved, so- let's take a look at how it all began!
The beginning
Whilst on holiday in October 2016, we saw an opportunity to turn a small 'craft' type business into a viable online retailer. We decided to buy this little company and with it came the formulas for 10 polishes.
We worked so hard in the early years to increase the collection of colours and found out all the things we could and couldn't do. We made plenty of mistakes and sprinkled in a few successes. We essentially 'trained' up on how to run a business!
Learning lessons
We learnt many things about nail polish formulas and ingredients, packaging, branding.. you name it. The biggest struggle we found was finding a way to show off our creations in a professional, crisp clean way. We had absolutely no budget and set about trying to achieve this on our own. It seems like such a trivial issue to have now, but it caused us months of uphill struggles.
Vegan, cruelty free and non toxic
We've always bought cruelty free products as a family and we would not have even entertained getting involved in a business that didn't work with that. When we initially bought the company and all the supplies, we made sure that they were not only cruelty free but vegan as well. As a family we believe that nothing toxic should go into our bodies, so as it fit with our ethos- we wanted that to reflect in the products we would be manufacturing.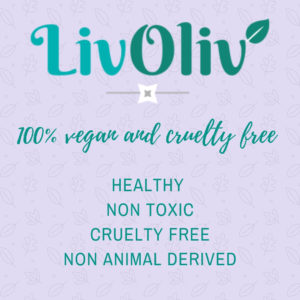 the big rebrand
Those of you who have been following us from the start may remember our decision to rebrand in July 2017. We had spent so much time working hard to grow the company that we wanted to put our own stamp on it- hence why LivOliv was formed. The name is a great way of summing up who we are and what we're all about- fresh, happy, natural and personal!
The business gained a completely new image, a new name, became a Limited company, we invested in brand new nail polish bottles and completely refreshed our outlook.
getting the word out
Now we had rebranded, it was time to get us out there! We were utilising our social media pages as much as possible- Facebook to increase our brand awareness and Instagram to show off our lovely new polishes! Which by the way, are now photographed by an amazing photographer called Micheal Illas in Salisbury, who provides us with the slick, professional image that we were striving for back in the early days.
We are so proud to have been featured in Veggie Magazine and Vegan Life Magazine– along with various blogs and reviews on other beauty and wellbeing platforms. We are also always out and about showcasing our cruelty free, vegan and non toxic products at local vegan festivals. It's been so great to see first hand what people think of our polishes and we can interact with other local independent businesses and share the love.  
naming the polishes
We have lots of fun naming polishes! We occasionally use a thesaurus to come up with unique and imaginative names for some of our crazy colours. Sometimes though, we make a fab colour but we can't for the life of us think of a good name (or we can't agree!) So we hand it over to our followers to help us out.
The winner gets the polish they named for free and a discount on any further purchases. Ocean Dream, a gorgeous pearly teal- and Purple Haze, a deep shimmery purple were both named this way.
the future for livoliv
Livoliv have grown the products range massively since the rebrand in 2017, now offering over 100 colours along with 7 shades especially for kids. We have made amazing new relationships with our suppliers and retailers, we have 12 stockists and more coming online with us soon. It's a really exciting time and we can't wait to see what the future holds. 
We're super proud of all the hard work we've put in over the years and to see the brand grow is a reward within itself. We have branched out to not only offer polishes- but everything that goes alongside the manicure like hand creams and cuticle oils, nail art tools and our newest addition- our vegan, cruelty free, acetone free nail polish remover.
We are always looking for new and innovative ways in which we can continue to grow- and always bounce off what our followers suggest. We will be releasing a 'Girls Night Out' collection shortly, which are about to be swatched and released later this month, so keep your eyes peeled!
Liv happily…
The Livoliv team x