Welcome to this month's Blog from the LivOliv Nail Desk….
The children are back at school, the  Summer is over and we're looking forward to digging out our cosy jumpers and boots for Autumn!
So London Fashion Week has been in full swing and with the new season comes new wardrobe options. The British High Street has really outdone itself this year – there are so many great trends and gorgeous pieces around!
Here are our Top 5 Autumn Trends for the coming season and how to style them:
---
Red is one of the key colours for this Autumn/Winter.  with it making such a statement, you do need to be careful how you wear it… but done correctly it's a shade which looks so stunning.
One brand which has really nailed their choice of pieces in this colour is Oasis, who have a beautiful array of coats, dresses, jumpers and accessories:
This dress is such a flattering shape and would look lovely with thick black tights and knee-high boots for a more casual look.  Pair it with heels and a black tailored jacket for the office in the daytime and a black biker jacket for the evening!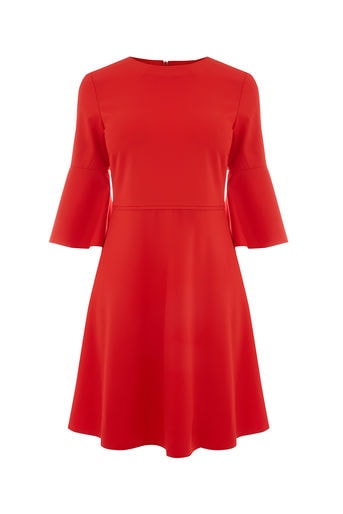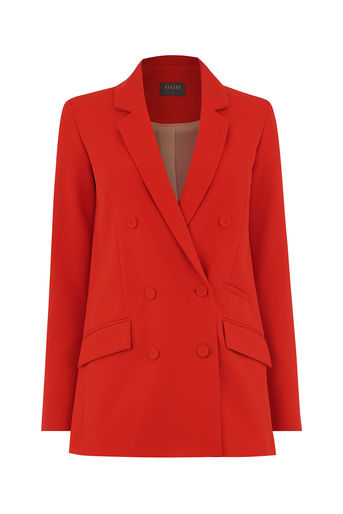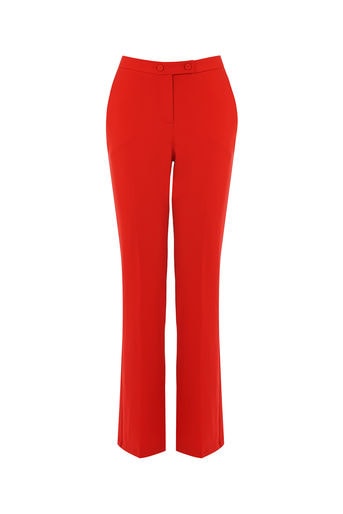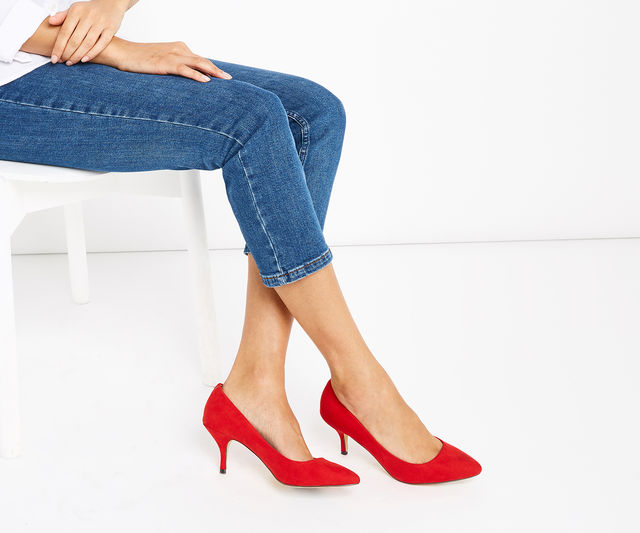 Something else which we've seen for the new season is the resurgence of the power suit.  Oasis have the most beautifully cut trouser suit which could be worn for so many occasions! This is the kind of outfit really worth investing in because you can wear the two pieces separately, dress it up or down.  It's also something that is very classic and going to be wearable for years:
If a full on red outfit is too much for you, then a pop of colour with some shoes or a bag looks beautiful with either a classic black dress or jeans:
---
When coordinating your makeup with a red outfit, a classic bright or dark red lip with neutral eyes and glam nails is definitely the way to go!  We would wear either a clean, bright nude or a neutral metallic silver or gold manicure:
---
Dark Florals are one of our favourite trends for this time of the year and it's an Autumn/Winter classic.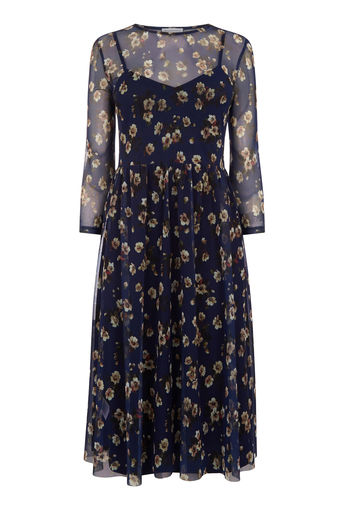 Warehouse have the most beautiful example of this at the moment with their Mae Floral Print Mesh Dress which has a nice subtle print, is a flattering length and even though the top has the sheer sleeves, they have stretch to them which makes it very comfortable to wear.
Contrast always looks great for your manicure so if you have a dark base to the print you are wearing, go for the opposite with your nails and try a lovely bright red or rich green, such as our Empower, or Wild Fern: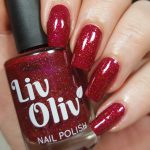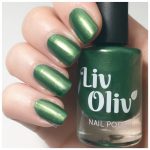 …. but you don't have to go dark!  Other winter florals we're loving from this brand are this bright, ruffle sleeved top (ruffles are still huge for this season, see below):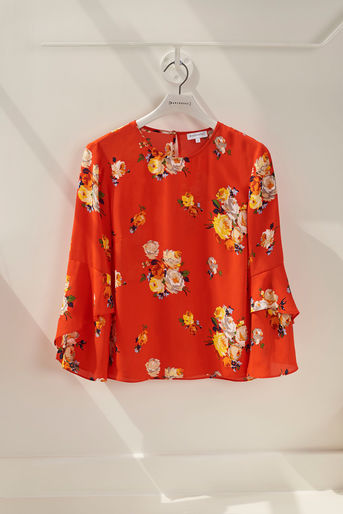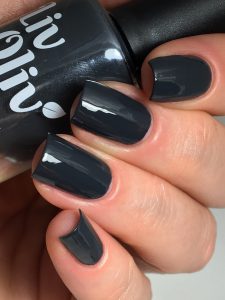 Grey always looks beautiful with an orange toned red, so we would wear a nice dark manicure with this top:
… or this Wild Garden Dress which is so pretty and would look fabulous over a roll neck with thick tights and bright pink nails!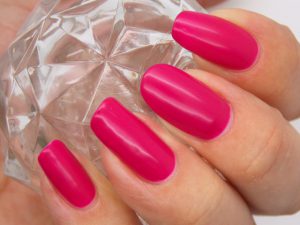 ---
Yellow is not a colour that everybody can pull off, but Zara is a brand that's never afraid of taking a daring trend and creating some fantastic options.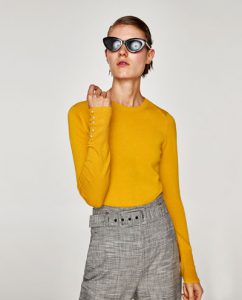 The good news about the yellow trend is that it ranges from a delicate pop of pastel, to bright acid as well as a grungier, khaki-yellow – so if you want to make a statement with a particular outfit or get bang up to trend, this is definitely the option to go for!
A gentle way to introduce some yellow is with this jumper that has pretty pearl cuff details and can easily be mixed in with more conservative toned trousers or skirt.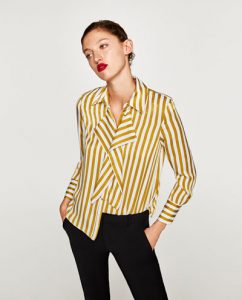 Also quite a subtle option is this striped shirt which is made from a beautiful satin fabric and would look fabulous for the office, but equally great with jeans and boots at the weekend for a more dressed down vibe to.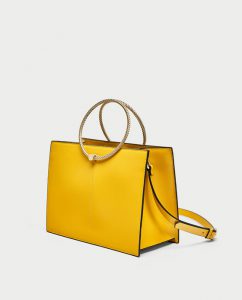 …and of course a super easy way of introducing a trend without feeling too overpowered is with a handbag and we love the designer-esque shape and metal handle details of this beauty!
A polish colour that always looks great with yellow is blue – so depending on which shade of yellow you are wearing we would choose the polish accordingly from a pale to dark and bright, rich blue:
---
Ruffles have been hugely popular all throughout the summer but they aren't going anywhere and they are such a pretty element to add to an outfit!
An absolute classic, a ruffled white shirt will never go out of fashion and can be worn with pretty much anything. Pieces like this look fabulous layered under tailored, sleeveless dresses as well as with skirts or dark blue jeans for a very chic but casual look: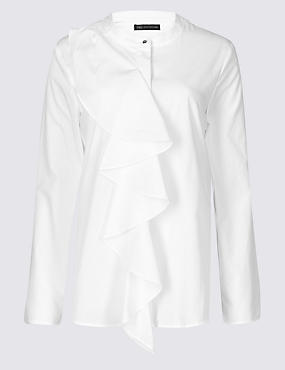 With such a classic outfit you can pretty much go for any nail colour, but particularly something nice and sparkly gives a great splash of interest.  We would go for one of our lovely holographic polishes:
Can we talk about the colour of this top?! Cobalt blue looks stunning on so many people and even though it's a bright colour, is still very versatile and would look great with denim, with black, with navy blue … and if you're feeling particularly daring, doing a print clash would look so high-end with this piece: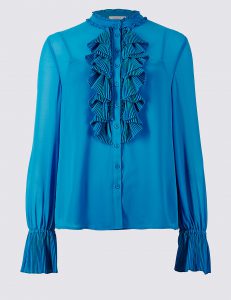 We would go for a delicate, but bright pastel yellow polish with this top: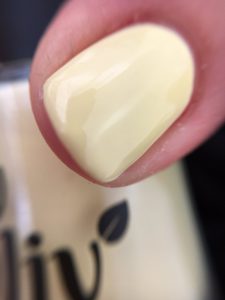 ---
Metallics are everywhere for winter and not just for the evening!  Obviously we are big fans of anything shiny or sparkly 😉 – but when wearing silver or gold in clothing, you do have to be careful not to overdo it… sometimes it's better to introduce a little bit of shine with more subtle metallic accents in your clothing.  or just stick to striking accessories.
This jumper from Topshop has a nice, fine hint of metallic to it. It's very flattering with the V-neck and is actually available in silver, gold or a black metallic. This is something that could be worn over and over again so is definitely a good investment.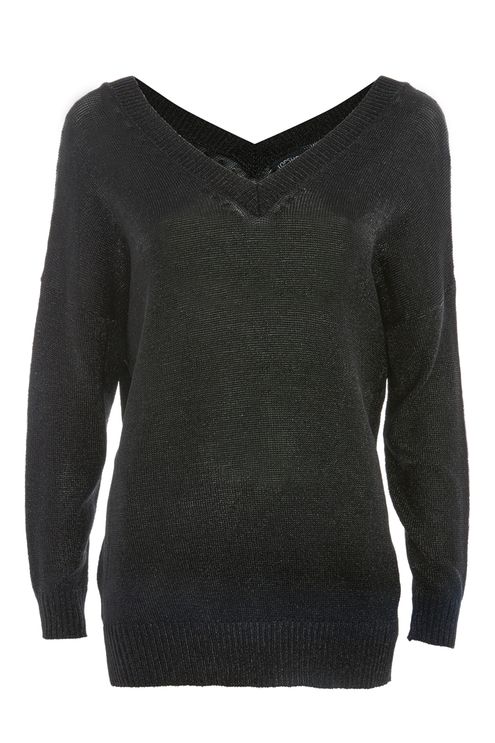 Alternatively, a nice bright and shiny bag will always take your outfit to another level.  This one is small enough for an evening out or for party's.  Being cross body is also great for throwing your phone and purse into and heading out shopping!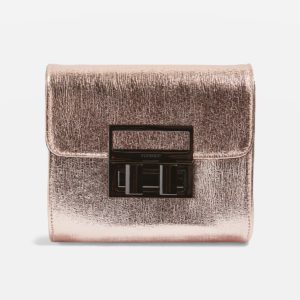 Now we hate to mention it, but Christmas isn't that far away (sorry!).  If you want to make a statement at a party, this dress is a stunning way to do so. It's also a fantastic way to wear a full-on metallic dress without looking like you're trying too hard!
You can wear a roll neck underneath it; put a black jacket over the top, add thick tights and boots to make it more casual.  It's a bit more of an investment piece but with its 60's shape it's going to be wearable for years to come.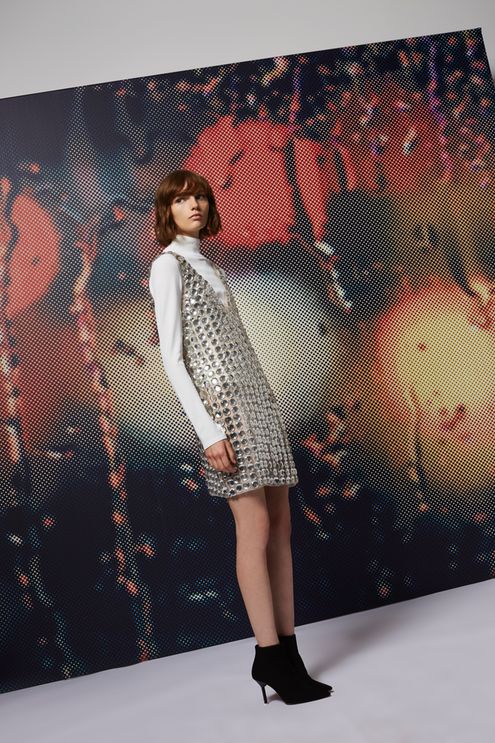 We would go for a strong nail with this trend and stay away from anything too shiny.  So a rich black (Back In Black) or a dark red (Empower) would be perfect:
So that's our top five trends for autumn and how we would style them.
---
Nail News!
So we said we had some exciting news and that is we are launching some brand new colours for Autumn!
We have five new pretty shades for you to play around with right now PLUS a fun Halloween kids collection!
Introducing:
Silk Chocolate – A creamy,  milk chocolate with a gorgeous silk finish.
Berry Juicy –  A rich purple that is bursting with colour.
Wild Fern – A deep perfectly autumnal foliage green.
Day Dreamer – A glossy sky blue shot through with a gleaming green iridescence.
Our limited edition  Halloween collection, which is perfect for your little ones – and you too of course 😉 includes four mini polishes; a stunning, bright pumpkin orange, a rich witchy purple, a ghoulish bright green and a gothic sparkly black PLUS some spooky nail stickers and scary temporary tattoos – all for just £12.
Details of another very exciting (and very sparkly) special collection will be announced next month!
---
And finally, have you joined our Nail Art 101 Facebook group yet? We'd love you to if you haven't! Click here to join: (https://www.facebook.com/groups/111167602924367/)
So that's it from us for this month, as always, if there is a particular colour you would like to see added to our range or a nail care question you'd like answered, please get in touch as we always love hearing from you!
We hope you have a fun and cosy start to Autumn and most importantly, Liv…Happily!
The LivOliv Team x