Spring Equinox has been and gone, meaning lighter evenings are just around the corner. We enter British Summer Time on Sunday 31st March, losing a precious hour of sleep (on Mother's Day of all days) but we gain an extra hour of sunlight, which we're sure you'll agree is worth it!
With a new season comes a new wardrobe, and since the Spring/Summer 2019 fashion shows happened at the tail end of last year, fashionistas will have a pretty good idea of what to expect in the high street stores.

 
In this week's blog we take a look at how you can use these upcoming fashion trends as inspiration for imaginative manicures…
pretty in pastel
Let's start with a spring staple. Your relationship with spring nail colours is probably a little predictable: the very second winter is done, you wipe off those dark, moody hues and reach for the prettiest pastel shade you own.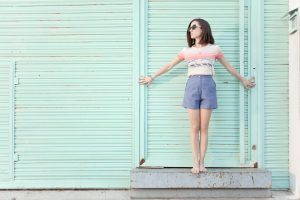 And why not?! Pastels are subtle, gorgeous ways of adding colour to your manicure and it's a great place to start once the weather warms up. Pastel shades look great paired with other pastel shades.. so rock that lemon yellow dress with contrasting sky blue nails! 
At Livoliv we have a range of seven lovely pastel polishes, all completely vegan, cruelty free and non-toxic. They are fully opaque, glide on beautifully and give complete coverage in 2 coats. 
make a colour statement
Bold colours never really go out of fashion and this spring is no exception. Jade greens, luscious pinks and deep purples will be adorning the high streets, don't forget bold jewellery and accessories too!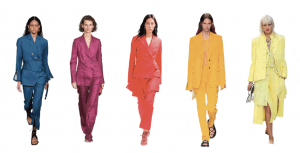 You have two choices when it comes to your nails, you can either rock the colour clash and go double bold- or tone it down a little and let your clothing do the talking. 
We have some great neon polishes to choose from, our personal favourite being laughter; a stunning bright and cheerful blue. Don't forget to keep the colour looking vibrant for longer with a good quality topcoat. 
Alternatively, if double bold is just too much to handle, a classic French manicure looks super smart against the colour blocks. 
tie-dye
Tie Dye emerged as a fashion influencer favourite for summer 2018, and its look was a winner on the catwalk. No longer solely the preserve of art teachers and hippies, tie-dye has had a modern update in the fashion industry. Kaleidoscopic tie-dye patterns and layered floral interpretations were making an appearance at Fashion Week last year.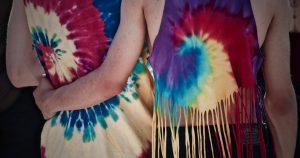 You can imitate this awesome look with your nails! Have you ever heard of water marbling? The Livoliv team gave it a go last summer and it was a lot of fun. It's a little tricky to explain but you can watch a helpful tutorial here. 
sunshine shades
According to Harper's Bazaar, rusty reds and burnt oranges are big news for spring 2019. Luckily for us nail enthusiasts, of course we have the perfect colours to match!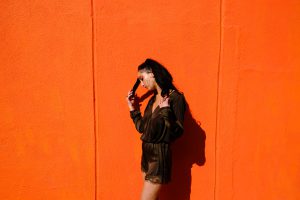 Copper Beech is a gorgeous warm brown and copper glittery polish, that is quick drying and super shiny. Paired with a burnt orange blouse and some black skinny jeans, you'll be ahead of the fashion trends this spring. 
We are so looking forward to seeing what spring and summer brings for us here at Livoliv, we are always on the lookout to attend any vegan festivals or markets to showcase our lovely polishes. If you know of one we may like to try, please do let us know! 
Don't forget to give us a follow on Facebook and Instagram, you can follow our journey and be the first to hear about any up and coming products we may have in the pipeline. 
Until next week….
The LivOliv team x