Welcome to this month's Blog from the LivOliv Nail Desk….
Hopefully with the worst of the 'Beast From The East' behind us we can all start to get excited about Spring arriving – and it's only 3 weeks until it's officially here, we cannot wait for the longer, brighter days!
There's a ton of Spring trends hitting our shops right now, from classic prints to more daring materials and embellishments. So basically something for everyone.
It's highly likely you're going to have some really on trend pieces already in your wardrobe so this month we're showing you our favourite pics from the High Street and of course, how to accessorise them with your nail polish!
Colour Palettes
Crayola brights –  think luscious jade green, juicy purples and tangy citrus tones.  If you like rocking a bold colour you are going to have plenty of things to choose from this season!
[FinalTilesGallery id="15″]
When wearing bright colours you have two options, you either make a really bold statement and rock a colour clash, going for equally bright accessories – or opt for nude tones, whether that is a soft, traditional nude colour or metallics which are neutral.
The same goes for your nail polish.  A traditional French manicure looks beautiful against bright colours, or you could go all out and have a rich, vibrant polish.
[FinalTilesGallery id="33″]
---
If those bright colours are not for you, perhaps you'd prefer some of the pretty pastel shades which are generally a staple for Spring and are going to be very popular this year.
[FinalTilesGallery id="16″]
Pastel fashion looks lovely accessorised with other pastels shades.  For instance a pale pink dress looks beautiful with a contrasting pastel blue or lemon accessories and nails.
We have a fabulous range of pastel polishes that all coordinate together wonderfully:
[FinalTilesGallery id="20″]
Patterns
Polka dots are absolutely everywhere, it's a print which is super flattering and monochrome is such a sophisticated and versatile look for pretty much any occasion.
[FinalTilesGallery id="18″]
When styling polka dots you can leave things really simple and stick to nude accessories, or do a print clash.  For instance a polka dot blouse looks fabulous with a pair of wide leg striped trousers.
If your polka dots are monochrome they are the perfect backdrop for a luscious red handbag, shoes and nail polish combo!
[FinalTilesGallery id="19″]
---
Stripes are such a classic print and something that most of us already have in our wardrobe in some form or another.
[FinalTilesGallery id="21″]
To bring your stripes up-to-date for this year, either team them with some zingy, bright accessories or do another type of print clash and pair them with delicate pastel florals.
Tip – to avoid looking overdone, if your stripes are narrow, stick to florals with a small pattern and vice versa.
Blue stripes look really fabulous with bright fuchsia pink nail polish which has a blue undertone, or a striking and bright orange shade.
[FinalTilesGallery id="22″]
---
Florals are another spring staple and there's certainly plenty to choose from this year.
[FinalTilesGallery id="23″]
If you're in head to toe florals, you really want those to be the statement and keep your accessories relatively simple.
If your clothing has a dark background with a light print, we would recommend you pick out one of the lightest colours within the pattern and coordinate your accessories with that.  Equally, light or bright clothes with a darker floral print look fabulous with dark accessories…. it's all about that contrast!
[FinalTilesGallery id="24″]
---
The check print was everywhere for Autumn/Winter 2017 and it's still here for Spring/Summer so you may well have pieces in your wardrobe already that you can style differently for Spring!
[FinalTilesGallery id="25″]
Invariably checks will be grey, black and white which leaves you tons of options for your accessories. Depending on the occasion, you can go for something very chic and classic with a nude bag, shoes and nail polish, or pop something like a bright emerald green silk blouse under a check blazer in which case accessorising with that shade looks absolutely stunning.
[FinalTilesGallery id="26″]
Silhouettes
With the new season comes new shapes in fashion and there are 3 standout silhouettes for Spring/Summer 2018.
Balloon sleeves are the first, which range from soft and sheer floaty sleeves to larger, more structured shapes in heavier fabrics.
[FinalTilesGallery id="27″]
Tip: When wearing this silhouette you need to be careful not to swamp yourself in fabric, so go for something slim fitting on the bottom half like skinny jeans or a pencil skirt – which takes us to the next silhouette…
---
Pencil Skirts are back! If you have slim calves and a small waist they are a very flattering shape to wear. Perfect for those with a curvy, hourglass figure.
Tip: If you are conscious of your tummy area, try pairing one with a peplum blouse which focuses the eye on the slimmest part of your waist a little higher up.
[FinalTilesGallery id="28″]
It's hard to find something that won't go with a pencil skirt as they are such a flexible item to have in your wardrobe. Dress them up for the office or go casual in a denim piece at the weekend.
…and finally, wide leg trousers which are everywhere and again, are a very flattering shape to wear. They show off your waist, slim your hips and elongate your legs (particularly if you go for a striped print).
[FinalTilesGallery id="31″]
Tip: Pair these with a top that is closer cut at the waist to avoid looking drowned in fabric and be careful with the cropped styles if you are on the shorter side as visually they cut off the lower part of your leg.
Accessories
Waist bags (a.k.a. a modern take of the 80s bum bag) are very 'in' but not so wearable, whereas the classic Tote is also the 'It' bag shape for Spring/Summer.
[FinalTilesGallery id="29″]
Along with larger bags, big statement earrings are everywhere too:
[FinalTilesGallery id="30″]
Tip: If you're going for a bold earring, try to keep your hair relatively simple – a low ponytail always looks stunning.
And that's it, our roundup of the key trends for spring summer 2018
– what are you looking forward to wearing?
---
Nail News!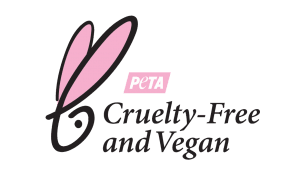 The big news recently was that we now have our PETA 'Beauty Without the Bunny' certification.  We are so super proud to be recognised and to be part of this organisation!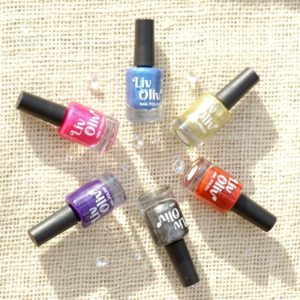 We have lots of exciting colour collections planned for the coming months, the first new polishes of the year launched in January and you guys have loved them – our sexy, full bodied holographic Rockstar collection!
If you'd like to see these polishes, along with tons of others in action, we often post videos to our Instagram (https://www.instagram.com/livoliv_cosmetics/) – why not give us a follow and keep up-to-date with all the latest shades?
---
* OTHER NEW PRODUCTS*
Since the end of last year we have been selling a range of beautiful, handmade soaps from Lucy's Soap Kitchen  which have proven very popular.
If you're escaping for some Easter holiday sunshine, we have a shampoo bar that is perfect for travel, along with natural handmade soaps that have delicious scents… you can buy them individually or in a stack of 4 minis.
By the way, if you are local to Dorset there are now 4 independent shops which stock our products: Naturalife Wholefoods , Purbeck Wholefoods, Purple Nanny and Spill the Beans.  If you are in the areas, why not pop in and show them some love!
---
Nail Care!
 Have you seen the fabulous video we recently posted in our Nail Art 101 Facebook group  which shows you how to file your nails and look after your cuticles correctly?
We also have a free nail care ebook which you can download here, and if you are growing your nails, don't forget that using a Cuticle Oil and Hand Cream will feed and strengthen them, as well as keeping your hands soft and moisturised.
And finally…
We're so excited for Spring to arrive and to launch all the gorgeous new cruelty free beauty products we have planned for you!
As always, if there is a particular colour you would like to see added to our range, or a nail care question you'd like answered, please do get in touch as we always love hearing from you.
We hope you have had a great month and that the Spring sunshine appears for you very soon!
Liv…Happily,
The LivOliv Team x