It goes without saying that if you love nail polish, you need nail polish remover. This beauty staple is perhaps used without much thought- so we want to shed some light on the best nail polish removers to use and the effects of acetone on skin.
We here at Livoliv don't agree with the use of harsh, toxic chemicals in our nail polishes- or any other beauty product for that matter. That's why it's so important to us that we are 9-free! Our vegan, non-toxic nail polishes are all free of the 9 worst chemicals used in the cosmetics industry. Read more about these completely unnecessary chemicals here. 
acetone and non-acetone nail polish removers
Nail polish remover works because it contains a solvent that dissolves the polish left on your nail. They typically come in two forms: acetone and non-acetone. Most high street brands offer both types and it is usually clearly labelled on the front of the bottle. 
Non-acetone removers use less aggressive solvents compared to acetone- like ethyl acetate and isopropyl alcohol. Used in large quantities these will still cause negative effects- but at a slower rate than the more aggravating acetone.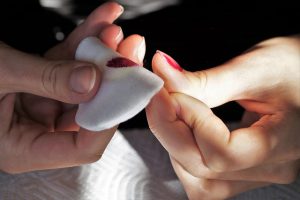 so… what is acetone?
Acetone is a clear, harsh, smelly and highly flammable liquid. It's a solvent that is capable of disintegrating even plastic! The main reason this chemical is used in nail polish remover is that of course, it works quickly and efficiently when removing your leftover manicure. 
Although it is the most effective- acetone can have some nasty effects on your nails and skin if it is used too much. Something that is easy to do when you're constantly wanting to switch up your nail colour! Acetone can cause:
Increased sensitivity of the nail plate

 

Skin sensitivity around the nails

 

Dry skin around the nails

 

Dry nail plate
Peeling and brittle nails

 
aCETONE AND ACRYLICS
Acrylics are the easiest way to add some length and glam to your existing nails, so it's easy to see why they are so popular. They can last for a long time if done by a reputable professional- but, no matter how good your acrylics are, there will come a time where they need to be removed. 
One of the most common ways to remove these stubborn acrylics is soaking nails in acetone. This can cause damage to both your nails and your skin.  If you choose to not have your acrylics removed professionally and decide to do this yourself, see our Removing Nail Tips at Home on how best to approach this.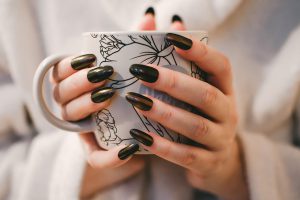 Non toxic nail polish removers
 As the demand for non toxic, healthier alternatives to beauty products is ever increasing, Nail polish remover is no exception. A lot of beauty brands are releasing completely non-toxic removers so you don't have to put your hands and nails through the drying effects of acetone!
Many of these removers are infused with essentials like organ oil and vitamins A, C and E- all of which will help battle the harsh effects of the chemicals and nourish your hands and nails. 
Livoliv are very excited to announce that We have now released our very own acetone-free, 9-free nail polish remover! Scented with Lemongrass & ginger an comes in super cute 30ml bottles.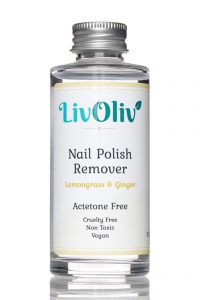 Make your own nail polish remover
Alternatively, you can always experiment with other ways to remove your favourite polish with natural ingredients found in your food cupboards! Vinegar and lemon mixed together has been proven as an effective way to remove polish and not a harsh chemical in sight!
Simply mix 1 tablespoon of white vinegar and one tablespoon of fresh lemon juice. Dip your fingers in warm water for a few minutes and then rub your nails with the mixture. Spending 20 seconds on each nail gently rubbing away will remove all traces of your old manicure. Give it a try!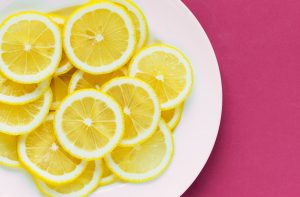 What we've learnt
We know that choosing an effective nail polish remover can be difficult; especially when products that contain acetone are so quick and easy. 
Non-acetone removers are your best bet when it comes to easily accessible options- they may take a little longer to remove the polish and cost a little more than the acetone removers but we think that is a small price to pay to save the health of our hands and nails!
Our top tip: Remember to always moisturise after removing any nail polish. Replenish your hands and nails to avoid the harsh drying effects of any remover. Our nourishing hand creams are blended with vegan ingredients and essential oils- we have 5 luscious scents to choose from!   Using a Cuticle Oil can also help your nails to grow strong and  healthy.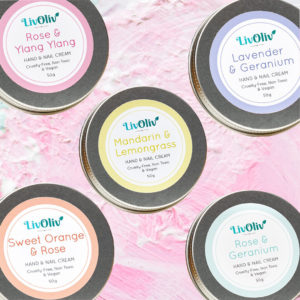 Our Top 10 Nail polish
Having to use an acetone free nail polish remover means having to have nail polish applied in the first place!  Check out our top 10 nail polishes, which are of course cruelty free, non-toxic and vegan.
Top 10 Nail Polish
1.Euphoria
2.BedRock Base Coat
3.Psychedelic
4.Arctic Glacier
5.Free Spirit
6.Peace
7.Lady MacBeth
8.Shinning Armour Top Coat
9.Skinning Dipping
10.Buddleia
That's it from the Nail Desk this week, we'll be back next Sunday with some more beauty tips and tricks for you to get stuck into. If you don't already, make sure to give us a follow on Instagram for more of our vegan products and mesmerising nail colours!
Liv happily and enjoy this spring sunshine… 
The LivOliv team x